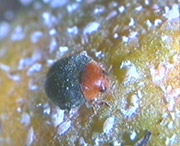 Cryptolaemus montrouzieri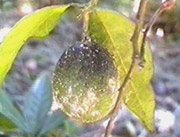 Planococcus citri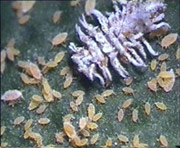 A grub on Cryptolaemus
Montrouzieri during Predation
CRYPTOLAEMUS MONTROUZIERI VERSUS PLANOCOCCUS CITRI ……
Cryptolaemus montrouzieri, of Australian stock, is a predator of cochineals and is worldwide used in the integrated biocontrol of citrus, vegetable and ornamental crops.
Morphology:
The insect is about 3-4 mm long.
The adult is black except for the distal part of wings and protothorax which are brown.
The body of grubs is covered by wax and produce wax rays which make them similar to Planococcus Citri.
The female lays eggs, up to hundreds, in the colonies of Planococcus Citri.
Older grubs are able to mimic their preys thanks to a whitish woolly aspect.
Biological cycle:
Sicilian environment allows 5-6 generations of Cryptolaemus montrouzieri; the insect winters as an adult and starts again its activity when the temperature reaches 20 °C.
BIOLOGICAL CONTROL OF PLANOCOCCUS CITRI
Cryptolaemus montrouzieri is generally used as a natural enemy when associated with Leptomastix dactylopii.
Cryptolaemus montrouzieri is used (20/30 individuals/ contaminated plant) to control the most virulent grounds in those cases where a failed removal of ants could compromise final results.
Allocation requires much care: insects are to be released close to the most contaminated fruits.
Cryptolaemus montrouzieri is handled with 100/individuals plastic boxes.
During delivery insects are to be kept at a temperature of about 13°C with the aid of polystyrene disposable packs cooled by dry ice.