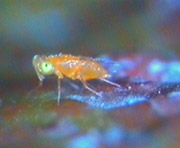 Aphytis melinus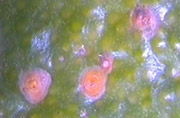 Aonidiella aurantii
APHYTIS MELINUS VERSUS RED SCALE …
Aphytis melinus is a parasitoid of the Red Scale of Chinese stock which entered Italy in the sixties.
Morphology and biology
The adult looks like a small yellow-orange coloured wasp, sized 1 mm length. The female, after mating, starts her life as a parasite at expense of female grub laying eggs under follicle and next to the body of the cochineal. From each egg a little grub grows being fed by the cochineal. She pupates and, approximatly after 15-20 days from the laying of eggs, the adult flutters about lifting the follicle or cutting a round hole. The female of Aphitis melinus, besides living as a parasite of aged grubs, kills the cochineal by hitting with her ovopositor in order to be fed by the hemolymph released (the so-called "Host-feeding"). This process is carried out at the expense of female and male grubs, of male pupae and of pregnant females.
BIOLOGICAL CONTROL OF RED SCALE
Biological control of red cochineal with Aphytis melinus is led through launches of the parasitoid from April to July and from September to October, just after the capture of male Aonidiella on the traps. The total number of individuals launched is of 40/50 thousands/ha, and depends on the degree of contamination. During delivery, boxes are to be kept at the temperature of about 13 °C into polystyrene disposable packs cooled by dry ice.